New Single Release!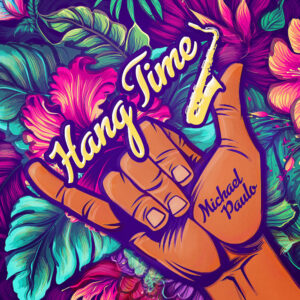 Michael Paulo – "Hang Time"
Hearing that one of my all-time favorite contemporary jazz sax players, Michael Paulo, has signed with one of today's most renowned and innovative indie labels (Woodward Avenue Records) is heartwarming and creatively exciting at the same time. Having toured and played with everyone from Al Jarreau, James Ingram and Bobby Caldwell to Peter White and Rick Braun, he has complemented a solid multi-decade solo discography with an incredible career as the ultimate contemporary jazz/R&B sideman. He's also the visionary live event producer who started the popular, long running Temecula Wine and Music Festival, which has supported military veterans and organizations like the Shriner's Hospital for Children over the past few decades. On a personal note, the night I met Michael backstage at a Jarreau concert at the Greek Theatre, he gave me an LP copy of his MCA solo debut album One Passion – and it remains one of my all-time favorite genre albums, paving the way for the urban/smooth jazz sounds to come.
Not surprisingly, the saxophonist's Woodward Avenue debut single, the delightfully bluesy, coolly strutting, playfully soulful and snazzily funky "Hang Time," sounds like an instant hit, full of fresh and spirited energy and bursting with the kind of optimistic fun we need going into a new year. For his first official solo release in almost a decade, Paulo's in the best hands possible, with labelmates Shane Theriot (Terry-O) and two-time Grammy winner Paul Brown composing a killer tune, Brown producing and mixing and Theriot, quite incredibly, pulling quadruple duty on keys, bass, guitars and drums.
Theriot's hypnotic, old-school soul-jazz keys create a seductive palette for Paulo to sashay in with his immediately identifiable, ultra-melodic sax melody. The two create a perfect complementary synergy, with the saxophonist taking us on a soaring, ultimately mid-tempo funk adventure (complete with sizzling horn textures) and Theriot grounding everything in old school soul-jazz cool with those infectious darker-edged keys and a hipster bass and drum groove. The most joyous moments are when Paulo, after building a laid-back sensual tension in the verses, busts loose on the whimsical hook, backed by Theriot's gospel-like synth tones. It's a deeply emotional release that will help all listeners destress and refocus on the dreams to come in 2023. Sometimes listeners don't notice the brightness created by the mastering process, but Paulo's served well here by the sonic skills of another master saxman, Euge Groove.
Like many instrumental artists, Paulo has done his share of label hopping, from MCA to GRP and then his own 90's label, Noteworthy, and finally releasing indie recordings under his own name and Apaulo Records (the case with two of his best 2000s releases – Beautiful and My Heart and Soul). It's thrilling on many levels that he is affiliated at last with a label like Woodward Avenue that is worthy of his incredible artistry and will give him the best opportunity for widespread success. Here's hoping that "Hang Time" – truly one of the most dynamic Paulo tracks ever – is just the start of the next and greatest phase of Michael Paulo's three-and-a-half-decade solo career!
– Jonathan Widran
Michael Paulo – Sax, Shane Theriot – Keys, Bass, Guitars, Drums, Paul Brown – Percussion Arranged by Shane Theriot, Produced & Mixed by Paul Brown, Mastered by Euge Groove Written by Shane Theriot & Paul Brown, Executive Producer – Mark Nordman, Radio Promotion – Dave Kunert